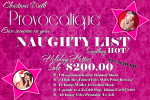 Holiday Hotties! Get your Christmas glam on for that special someone on your naughty list!
Details:
- ONE subject or COUPLE per photo shoot!
- Couple means two people shooting together in ALL FRAMES. If two people of you would like separate shots (like a friend) please purchase separate $100.00 shoots.
- Photo shoot must be glam, boudoir, or lingerie ONLY. No nudes, or sexual scenarios allowed! This is for a "basic" sexy session. Gender bending is A-OK for these sessions!
- Photo shoot must be COMPLETED and print products ORDERED by December 17th to ensure delivery by December 23rd
- Shoot will be up to 1 hour, on location. You may change clothes as many times as you think you can squeeze in that time frame but I suggest no more than 3 outfits.
- You will receive 4 high resolution fully edited images of your choice with print releases , and as many frames as we shoot in low res  images printable to 4x6
Purchase details:
Online purchase of 50% ($100.00) is your booking deposit. This amount is non refundable, and will be held as a credit toward future regular priced sessions in the event of a cancellation. The balance ($100.00) of the shoot is due the day of your session and must be paid before the shoot starts. If you plan to purchase an album upgrade (additional $75.00)

Updating...