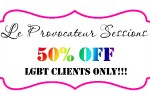 Le Provocateur Sessions 50% Off  - Rainbow Thursday!
$100.00 off Le Provocateur sessions are FOR GLBT COMMUNITY ONLY!!!! When I show up for your session, I will check your gay card ;) 
If you purchase this session, and I come to your shoot, and there are no gay people... you will be charged the additional $100.00 for the Le Provocateur session for non GLBT community.
These sessions are normally $200.00 - get them for $100.00 on Rainbow Thursday and Black Friday! Purchase 50% off gift certificates on Rainbow Thursday (use coupon code RAINBOW) and you are getting this session for only $50.00!!!
This purchase of $100.00 is your full session - for this sale the full session price is paid up front. It is non refundable. In the event of cancellation you will receive a $100.00 credit toward a regular priced session on a future date.
IF YOU PURCHASED GIFT CERTIFICATES IN THE AMOUNT OF $100.00 for $50.00 YOU DO NOT REQUIRE FURTHER PURCHASE!!! Simply email me to book your session and let me know you are a gift certificate purchaser. 
50% off Le Provocateur sessions for GLBT clients only - Rainbow Thursday

Updating...