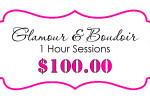 Save $100.00 on a Boudoir session!
Purchase gift certificates to pay for it and save another 50%!!!
If you choose to purchase gift certificates to pay for this shoot PLEASE do not pay for this session via the online purchase. Simply email me to confirm you plan to book this session with your gift certificates after your purchase.
This sale is ONLY occurs once a year! Get it while it's hot!
During this sale sessions must be pre-paid.  If you fail to prepay the deposit you will not receive the sale price! 

Updating...